How Much Should an Engagement Ring Cost?
Ready to put a ring on it? If the idea of proposing to your significant other is crossing your mind, so is the potential price tag. So how much should an engagement ring cost? Though there are several preconceived rules, the choice ultimately varies per person. As engagement ring designers, we'll share what influences the price of an engagement ring, the average cost, and where you shouldn't cut corners to "save."
How Much Does The Average Engagement Ring Cost?
(A round diamond 6 prong custom engagement ring, The Frances).
According to the experts, in the state of Colorado it's typical to spend about $6,310 on an engagement ring (very close to the national average of $6,351). But we are seeing this average steadily increase each year. It is also important, however, to realize some people spend much less or exponentially more (Beyonce's engagement ring from Jay-Z, for example, is valued at over $5 million). The average cost is practical information, but we don't suggest that it be the biggest indicator on what you spend on such a personal, meaningful item. It is completely dependent on your personal financial situation and what you believe your partner would be comfortable with. Hence, pay attention to whether she is fairly minimal or if she hopes for some major bling.
(The Leah custom engagement ring is a three stone double band diamond ring with an emerald cut center stone flanked by two emerald step cut diamonds).
Common Engagement Cost Ring Myths
You must spend three month's worth of your salary.
For instance, if your yearly salary is around $100,000, you're expected to buy an engagement ring worth $25,000. But we have news for you – this is more of a marketing initiative than a one-size-fits-all guideline. It is an outdated notion and there is actually no rule for how much you SHOULD spend. You can design a amazing ring for your partner within various budgets, no matter your salary.
You can save money by shopping online.
It is actually much riskier to shop for an engagement ring online as you don't know what the ring or stone will look like in person, and if the stone is actually real. You should be extremely wary of any "amazing deals" on a large diamonds. If it seems too good to be true, it is. Diamonds and gemstones vary widely in quality, and this isn't obvious unless you're familiar with fine jewelry. An engagement ring is a piece of jewelry that you want to last forever. It is not an investment that should be taken lightly, and you should be able to rely on someone you can trust. Someone you can talk to in person, who can answer your all of your questions and show you stones in person.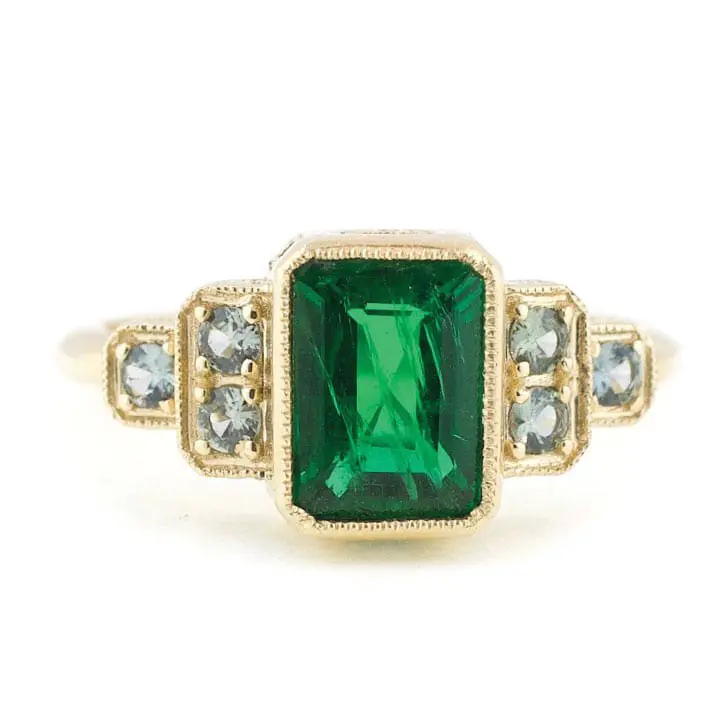 (Emerald and sapphire custom engagement ring with a bezel set emerald cut green emerald center stone, The Kate).
Engagement Ring Price Factors
Four C's: Cut, Carat, Clarity, and Color
The cut of the center stone describes both the shape (round, oval, pear, etc.) and the fire that's projected when light catches its surface. The more precisely a stone is cut, the more brilliantly your diamond shines and the higher the price tag.
Carat is the measurement by which the stone is weighed. As the carat size increases, so does the price tag. The typical diamond size for an engagement ring is 1 carat.
Clarity is determined by how "flawless" a stone is. Noticeable imperfections known as inclusions, downgrade its clarity and adjust the stone's price.
The closer to flawless a stone is, the more budget you'll need to allocate.
Lastly, the stone's color greatly affect its value. Diamonds, come in a spectrum of shades, and some are much more unusual than others.
It is important to recognize that each stone is like a snowflake, completely rare and special. These four factors can be in any combination to affect the cost of your engagement ring stone.
(A moissanite and diamond swirl custom engagement ring, The Paige).
How Much To Spend on an Engagement Ring
The preferences and budgets of each couple are totally personal and different. Our studio's main priority is bringing your dream engagement ring to life while never sacrificing quality. The average engagement ring we create with clients at Abby Sparks Jewelry can range from $6,000 – $15,000. No matter what your biggest concern is, ethics, design, rarity, etc. we can consult with you on how to create the ring YOU want within a budget YOU control.